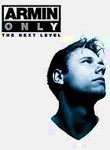 More than 12,000 clubbers packed Rotterdam's Ahoy Stadium for this epic set by DJ
Armin van Buuren
, in which the Dutch trance superstar electrified audiences for nine hours. This DVD of highlights from the unforgettable evening in November 2005 also includes music videos and behind-the-scenes footage. Van Buuren serves up many of his own tracks -- including "Zocalo," "Hymne" and "Sail" -- as well as beats by Arctic Quest, Inertia and others.
Armin Only The Next Level DVD starts out a little slow. I was about to turn it off and watch something else but then it happened the DVD took a very interesting turn. Armin starts out his DJ set like most dj's do and then I notice that he is using a studio mixing board. Then it hit me Armin was not just djing he was producing the show with artist like Susana, Racoon, Nadia Ali, Ray Wilson and his brother Eller Van Buuren. This DVD will draw you in and when the DVD is over you will want more. Armin is not just a DJ, he is the maestro, composer, and
orchestra conductor
, he absolutely put on a show! The crowd was in ah! The Audio is superb! This DVD will show what a DJ's can do. The next time someone ask you why you will go see a Dj spin for 9 hours, tell them to watch this DVD and they will know why.
This is a must see DVD for any Trance lover and if you your not careful you will be up dancing in front of your Tv! Armin Only The Next Level is stunning, powerful and very visual. This is a great DVD I give it 5 stars!
DJ Scy
GET IT NOW AT NETFLIX.......
Netflix - Only 4.99 a month. Create your list of DVDs online. We'll rush you 3 DVDs from your list. Keep each DVD as long as you want. Return your viewed movie(s) to get new ones from your list. Try Netflix for FREE today!